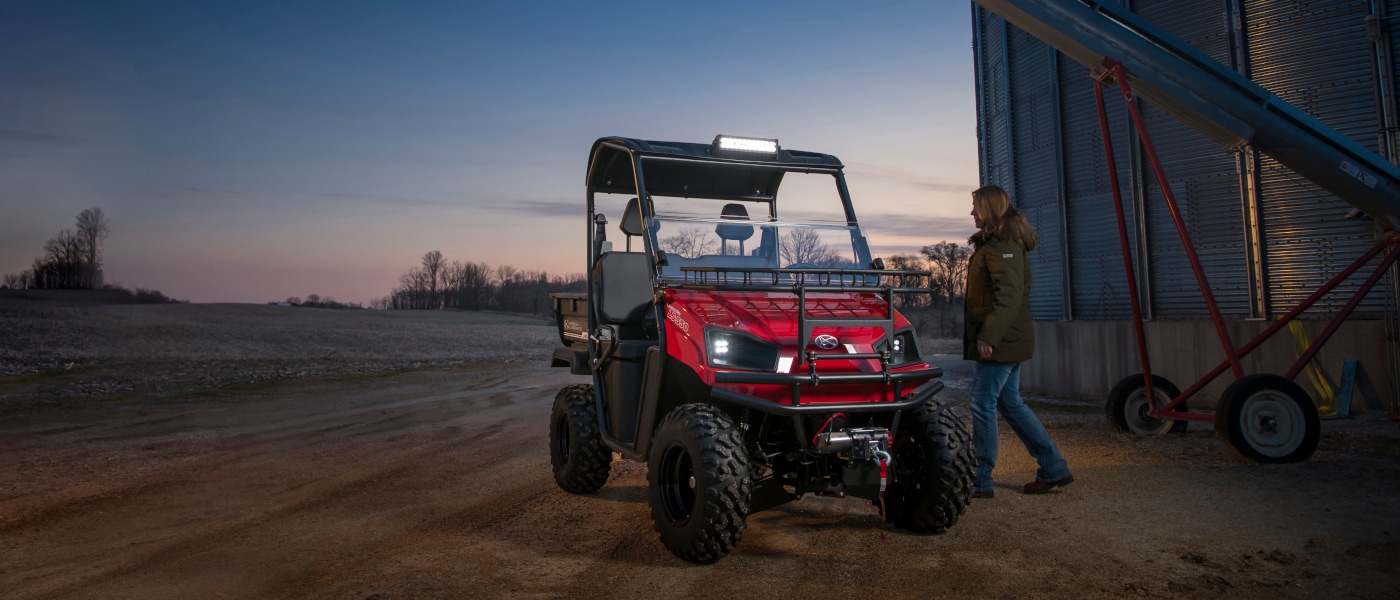 While we may be known for our SUV and truck inventory, Petersen Chrysler Dodge Jeep Ram also has utility vehicles (UVTs) that are perfectly suited for handling smaller tasks around your property or worksite. The LandStar 550 base utility vehicle, specifically, is an excellent option for your needs. Interested? Learn more about the many benefits of this rugged utility vehicle to see the kind of support it has to offer with the research our team has compiled. For additional information, please contact Petersen CDJR in Waupaca, WI, online or by phone at (715) 256-8189. You can also search our utility vehicle inventory to see which models are available.
Towing & Payload Capacity
Hauling materials around your property and worksite is essential if you're in the market for a LandStar 550 base, so it's important to know how much this utility vehicle can tow and haul. Maximum towing capacity is 1,200 lbs., while the maximum bed capacity is 500 lbs.
LandStar 550


Colors Options

To customize the LandStar 550 base, you can choose from four hood color options, including:
---
Available Features
Drive-train System
The LandStar 550 base has a unique on-demand 4x4 drivetrain system. While it performs effortlessly with 2WD, 4WD will kick in during specific situations, like when it senses rear slippage. 
Power Steering
For smooth handling, the LandStar 550 base is available with power steering. This feature adds comfort, effortless turning, and an overall better driving experience.
Rear Locking Differential
If you're covering rougher terrain, the rear locking differential will come in handy. Simply engage the cable-actuated rear locking differential for additional traction and stability.
LandStar 550


Specs

Because your daily tasks may look different than someone else's, it's highly recommended to consider the specifications of the LandStar 550 base to see if it has the right amount of power and enough stamina. We've provided some of the key specifications to help you gain better insight into the performance you can expect from the LandStar 550 Base.
Power/Engine

16 HP/479cc Vanguard four-stroke pressure lubricated OHV V-Twin engine with oil pressure warning light
CVT automatic transmission

Speed

Up to 24 miles

Fuel Consumption

Up to 18 MPG

Range

Up to 100 miles

Dimensions

Length: 110 in.
Width: 49 in.
Height: 78 in.
Bed Options & Capabilities
Having the proper bed is important to complete every task on your to-do list, so the Landmaster 550 base is available with four different kinds for you to choose from. The rust-free poly bed is standard on all utility vehicles, although you can also equip your LandStar 550 with a steel bed with tail gate, steel flat bed, or the rear flip seat dump bed, the latter of which allows you to switch from seating to bed for flexible usage.